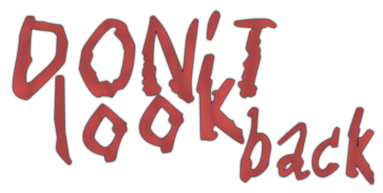 Don't look back
A downloadable game for Windows
A creature lurks in the dark and someone is trying to tell you something about this abomination, but the message is incomplete.

Find the 3 pieces of this message scattered in the forest and return to your car alive so you can see the light of the day once more.

---
"Don't look back" is based on "Slender - The Eight Pages" by Mark J. Hadley, with a few minor gameplay tweaks to make it feel different. The premise is simple: collect 3 notes randomly placed in 13 possible locations. As you progress and pick up more notes, the creature will move faster and faster. You can use a night vision device to find the notes more easily, but that will also increase temporarily the creature's speed.

Playing on Nightmare is the real deal: no night vision, no clues pointing at where they are and, worst of all, the creature can sometimes appear in front of you. Play Nightmare Mode only whenever you feel ready, so you can see the true ending of this story.

Any question or suggestion will be welcomed in the comment section. ;)
---
GAME AVAILABLE IN ENGLISH/SPANISH.

COMPATIBLE WITH 360 CONTROLLER.
LowSpecGamer seal of approval!
---
Enrique "Baxayaun" Colinet. (@Baxayaun)
---
Don't Look Back Guide - All possible note locations
---
Development notes:
Created in Unity 5 in 100 hours using Playmaker.
In January 2017 I started learning Unity at Aula Arcade (Sevilla) and less than a month later I finished this, my first project. "Don't look back" has been a super fun project to work in and the best practice for basic raycasting, AI and visual scripting.

I intend to continue working on this project as I learn how to use more Unity plugins such as ProBuilder. So, expect new levels and updates! ;)

Changelog V1.5 (FINAL):
- Fixed text disappearing when picking up two notes too fast.
- Fixed flashlight animation not stopping when getting to the car.
- Fixed "Return to the car!" line displayed with wrong colors.
- Fixed first message not appearing when in Nightmare mode.
- Main menu now supports full navigation with 360 controller.
- Added sound in main menu.

Changelog V1.3:
- Increased size of creatures' face.
- Fixed text not appearing properly on ending when picking up last note.
- Added extra post-process effect on ending level.
- Hid a debug message when looking at the player's feet.

Changelog V1.2:
- Improved overall visual quality.
- Changed creature's face.
- Improved 360 controller navigation in menu.
- Added flashlight animation when running.
- Added images for all possible endings.
- Added cheat in main menu.
- Game's ending is now fully functional.
- Corrected some lines in the English localization.

Changelog V1.1:
- Added controller support (Only 360 Controller)
- Improved visual clues for navigation.
- Increased player and creature speed.
- New skybox and lighting.

Changelog V1.02:
- Fixed tipping system not working after the first game.

Changelog V1.01:
- Fixed NIGHTMARE mode. The creature now teleports properly.
- Fixed flashlight intensity when getting close to a wall.
- Fixed tips system: now in TENSION and PANIC mode, a first tip will be given from the very beginning.
- Picking up a note will tell you how many are left.

| | |
| --- | --- |
| Status | Released |
| Platforms | Windows |
| Release date | Feb 11, 2017 |
| Rating | |
| Author | Enrique Colinet "Baxayaun" |
| Genre | Survival |
| Made with | Unity |
| Tags | First-Person, Ghosts, Horror, Monsters, Mystery, one-hit-kill, slender, Spooky, Survival Horror |
| Average session | A few minutes |
| Languages | English, Spanish; Castilian |
| Inputs | Xbox controller |
| Accessibility | Subtitles |
Download
Download
DontLookBack_V15(FINAL).zip
134 MB
Comments
Log in with itch.io to leave a comment.
I think the game is broken? I see the nails but not the notes.
Sorry to hear that. No, is not broken (I played again a week ago and everything seemed to be fine). There are 13 possible locations for the notes.

If you have problems finding them, use the map that I linked in the game's profile. That might help you. ;)


Hola amigos, although the ghost could have been a lot scarier it was a great little game and would recommend people to check it out.
Don't Look Back is an interesting experience, developed by Enrique Colinet (@Baxayaun) for itch.io.
The premise is simple: don't look back, and collect the notes to progress the narrative forward. Fun, entertaining, and jump-scary. We had a lot of fun playing this one!
Thanks for playing! BTW, the Kabuki mask enemy was fired for the latest version of the game and replaced for something more unique. ;)
I got to get back into the game and play Nightmare mode, and I have to say that I love this game even more now, you did a truly great job of creating something that a lot of people who create games leave out, the actual GAME. Something with a challenge, that gives you a major objective and keeps your mind going and blood pumping. Truly a great experience, and my favorite game of the year thus far. Hope to see it get more attention.
Great game, glad I found it on here, the atmosphere is good, keeping the character searching for something while trying to avoid the monster was intense, I was able to complete Panic mode, I may try Nightmare mode as well, definitely following for future updates. I made a video, audio quality is a little bad though, sorry about that. Keep up the good work!
Hey, thank you for playing! I'm currently very dedicated to updating this game, and I think it reached almost its final version. "The creature" now looks different (I hated that creepypasta face) in version 1.2 and I added some other cool features. You're welcome to try them all! ;)
Awesome! Soon as I get my mic problem fixed I'll jump back in and check them out!
I was wondering if I can play it with a joystick?! I really anna play it it looks really good *-*
It is compatible with the 360 controller only. At least, for now.